Physical Education
Lessons For Life
Polar is for the quiet kid in the back as much as it is for the class star who is always picked first. It helps any student of any ability reach their true potential. Polar changes the way health and physical education are taught – keeping track of every movement, of every child – so you can continue inspiring them to do their very best.
Nobody can deny the health benefits of physical activity. While your students learn to maintain their health, they will also improve their academic performance – being active will enrich their learning ability in other subjects as well.
With over 30 years of experience in sports, physiology and electronics, it's no surprise then that we've been leading the way in technological innovations and heart rate monitors. Polar will help you teach your students to lead a healthy and active lifestyle in a smarter way. You will be able to give your students the kind of personal teaching you've always wanted to, coaching them in life lessons that will stay with them forever.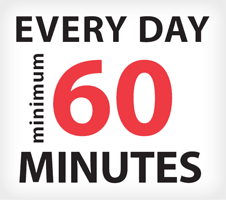 Don't forget, every child should be active for at least
60 minutes every day to maintain a healthy and active lifestyle.