polargofit.com
polargofit.com is designed specifically with teachers and students in mind. As well as allowing the chance to easily document and follow all activity data, it also tracks time spent sleeping. The web service makes it simple to create individual and group reports, tracking long-term progress for each student and class. It's an easy and secure way to store student data, and sharing information with parents and administrators becomes a straightforward process.
Use polargofit.com to:
Create activity periods, set targets and evaluate students based on objective activity data.
Track physical activity, time in the sleeping zone and follow student progress by individual or by group.
Collect data and provide clear, comprehensive reports in PDF format to share with parents and administrators.
Identify key areas for improvement or students requiring additional motivation.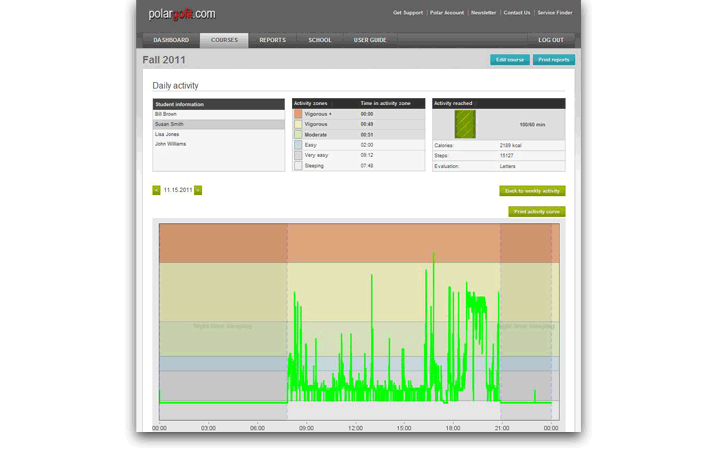 click to enlarge

click to enlarge
Go to polargofit.com to learn more
›

Activarium
Activarium is a separate module available for polargofit.com. Through this fun and engaging game, teachers and students collaborate to create an aquarium. By achieving daily activity targets, classes use their activity points to build and decorate their aquarium with a structure, such as a castle or shipwreck. The aquarium is inhabited by fish that individual students can choose and customise with points earned through their daily activity. Activarium is an enhanced user experience that lets students work together in building a personalized environment while providing a tool for teachers to help reinforce the benefits of being active. For younger children, Activarium demonstrates a direct link between the exercise they do and the reward, helping them to develop a lifetime habit of activity.