Running
Polar M430
GPS running watch
Polar M430 is a GPS running watch with wrist-based heart rate, advanced training features and 24/7 activity tracking — a top-level watch for runners who want more.
Buy now -
Watch video
Designed for runners
Polar M430 highlights
No straps
Polar M430 measures your heart rate from the wrist easily, accurately and reliably.
Run wherever
Track your pace, distance and altitude with the integrated GPS. When you run indoors, Polar M430 tracks pace and distance from your wrist movements.
Fitness Test made easy
Polar Fitness Test with wrist-based heart rate tests your fitness level anytime, anywhere — no straps needed.
Running Program
Get a personal and adaptive training plan that fits you and your goals.
Running Index
See how your running performance is developing.
Sleep Plus
Sleep is vital to your recovery and overall well-being. With Polar Sleep Plus™ you get valuable insights to your sleep. Learn about the quality of your sleep, get to know your sleeping patterns and let good sleeping habits push you towards better performance.
M430 features
Chase your destiny
Smart Coaching
Features
Specs
Fitness Test with wrist-based heart rate
A five-minute test that measures aerobic fitness from your resting heart rate, heart rate variability and your background information. Complete the test regularly to see the progress you're making. More ›
Running Program
Train for a running event with a personal and adaptive training plan in Polar Flow. Choose from four different targets, 5K, 10K, half marathon and marathon, and get a training plan that fits you and your goals. More ›
Running index
Shows how your running performance is developing. More ›
Training Load
Shows you how your training affects your body and helps you compare the load of different sessions. Monitor your load continuously to recognize your personal limits and adjust training intensity and duration accordingly. Available on Polar Flow. More ›
Recovery Status
Shows you the time necessary for recovery before the next training session. Available on Polar Flow. More ›
Training benefit
Delivers motivating feedback immediately after training describing the effect of the session. More ›
Smart calories
Lets you know exactly how many calories you've burned based on your weight, height, age, gender, your individual maximum heart rate (HRmax) and how hard you're training. More ›
Activity Guide
Shows how active you've been during the day and gives practical guidance for reaching your daily activity goal. More ›
Activity Benefit
Gives feedback on your daily, weekly and monthly activity, showing how your active choices help you stay healthy. More ›
Sleep Plus
Sleeping well will help boost your recovery and performance. Polar Sleep Plus™ automatically detects the timing, amount, and quality of your sleep. You'll also receive feedback on your sleep so that you can make changes towards better sleep.
Wrist-based heart rate
Track your heart rate easily and accurately with the Polar proprietary optical heart rate measurement.
Advanced GPS
Polar M430's accurate and reliable GPS measures your speed, distance and route with precision. Thanks to the GPS power save mode, every turn gets tracked even on your longest adventures.
Indoor running data
When GPS signal is not available, Polar M430 measures pace and distance from wrist movements.
Activity tracking
Stay on the move all day long. Polar M430 tracks steps, distance, calories and sleep and gives you a personalized daily activity goal.
Polar Flow
Plan, sync and share your training using the exclusive Polar Flow online service and app. All data is easily viewable.
Smart Notifications
Smart Notifications allow you to see notifications from your phone directly on the screen of your M430.
Sport profiles
Polar provides over a hundred different sport profiles which enables you to choose the right one for your training sessions.
Measurements
| | |
| --- | --- |
| Weight | 51 g |
| Thickness | 12 mm |
| Display size | 128 x 128 px high resolution display |
Tech
Integrated GPS with SiRFInstantFix™ satellite prediction technology
Activity sensor
Manual and auto laps
Vibra alert
Waterproof (suitable for swimming)
8 MB Flash memory
Rechargeable 240 mAh lithium polymer battery
Battery duration up to 8 hours of training time with GPS and optical heart rate
Connectivity
Custom USB cable for data sync with PC or Mac
Bluetooth Smart with mobile and sensors
Polar Flow web service compatibility with Mac OS X 10.6, OS X 10.7, OS X 10.8, or later, and PC Windows XP, Windows 7, Windows 8, or later
Polar Flow mobile app compatibility
Updatable software
UI languages: English, German, French, Spanish, Italian, Portuguese, Finnish, Swedish, Norwegian, Danish, Dutch, Japanese, Chinese (Simplified), Polish, Russian, Turkish, Czech, Indonesian
Match your Polar M430 to your style
Polar M430 is available in three sporty colors.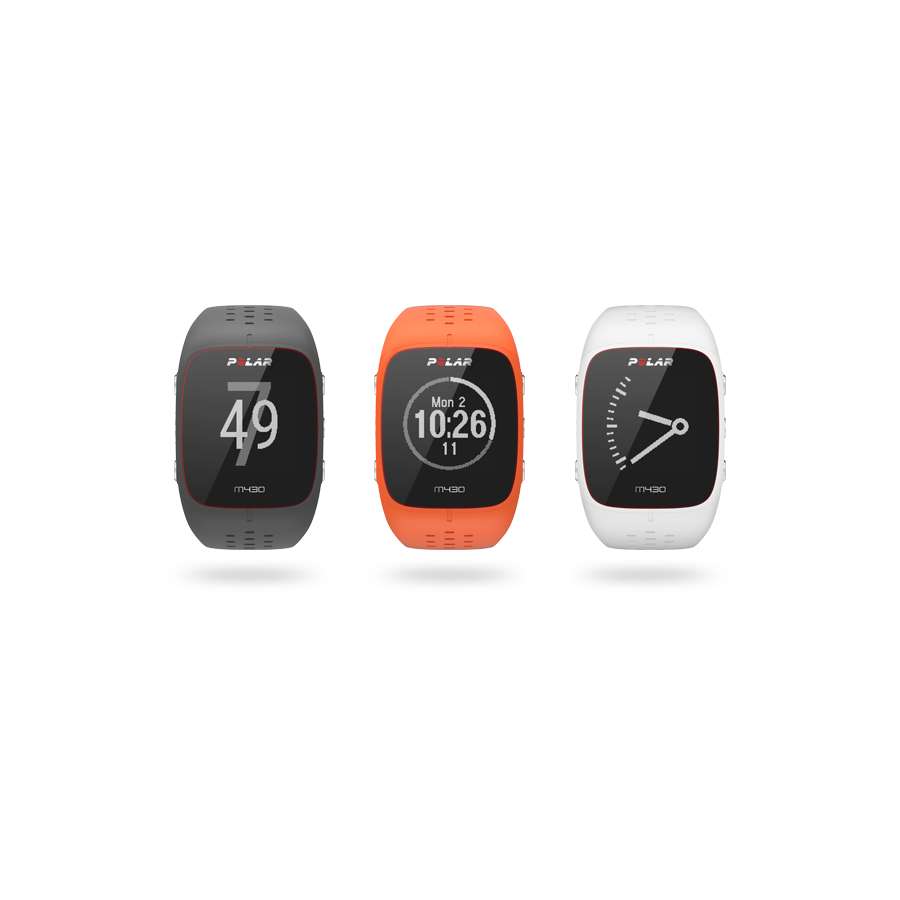 Free app and web service
Polar Flow — achieve more
Polar Flow
Track your activity, analyze your progress and achieve more with Polar Flow – the complete fitness and training platform available on desktop and mobile.
Training
See all your training data, analyze your performance and follow your progress. Analyze quickly in the app and in depth in the web service. Plan your workouts, follow your recovery or set up a training program for a running event.
Activity & sleep
Track your daily activity and sleep, see your daily, weekly and monthly summaries and learn about the health benefits of your daily choices.
Get connected
Link your Polar Flow account to third party services, such as Strava, MyFitnessPal or TrainingPeaks. Share your training data with your coach or PT with Polar Coach, Polar's free online tool for coaches.
Accessories
Upgrade your performance
Upgrade your training computer to enhance your experience and achieve a more complete understanding of your performance.