Polar GoFit application
Polar GoFit app is an easy way to follow your students' heart rates online during a PE lesson. You can define a certain target zone for each lesson and see whether your students achieve the target. During the lesson you can guide them to stay on the correct zone and see the accumulated time on the zone. You can follow this information individually or collectively from the whole class, letting you alter the structure of your lesson in response to instant feedback.
At the same time it's an easy and fun way for students to learn about the health benefits on staying in different target heart rate zones. The students can collect badges and even compete against one another, giving a new dimension to their activity.
You can see summary data after the lesson and compare all ongoing courses you have. The data is saved automatically to polargofit.com for later analysis and evaluation.
All you need is an iPad with the Polar GoFit application, an Internet connection, a user account to polargofit.com web service and wireless Bluetooth Smart heart rate sensors for the students.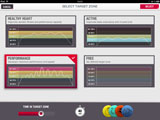 click to enlarge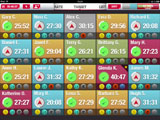 click to enlarge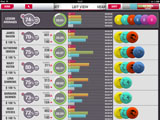 click to enlarge