Polar OH1 vs Polar H10 | Which heart rate sensor is right for me?
August 30, 2017
Let's start by introducing our contestants, two of our heart rate sensors: Polar H10 and the Polar OH1.
Both represent the newest heart rate tracking technology from Polar, both use Bluetooth Smart to connect to apps and Polar sports watches and both have use cases in which they really shine.
But how do you know which one of these heart rate sensors is right for you? That depends on what you want to use it for. First, let's take a look at some tech specs side by side and then go through the specific situations where one works better than the other.
| | | |
| --- | --- | --- |
| | | |
| Bluetooth Low Energy | X | X |
| 5 kHz transmission (Gymlink) | | X |
| Updatable software (over the air) | X | X |
| HR measurement method | Optical HR | ECG, chest strap |
| Built-in memory | Up to 200 h of HR training | For 1 training session |
| Compatible with 3rd party apps | X | X |
| Operation time | 12 h (rechargeable battery) | 400 h (replaceable battery) |
| Polar Pro strap | | X |
| Waterproof | 30 m |  30 m |
| Price | 79,90 €/$ | 89,90 €/$ |
Ultra long sessions: Polar H10
The rechargeable battery on the Polar OH1 lasts for approximately 12 hours. The battery on the Polar H10 lasts approximately 400 hours. Some easy math reveals that for those ultra long sessions, you should choose Polar H10.
Easy to put on: Polar OH1
Polar OH1 is easy to slip on your upper or lower arm. Group fitness class about to start? Slip it on. Ready to track that grueling climb on your ride? Slip it on. Cold morning jog? You get the idea.
Orthostatic test and R-R recording: Polar H10
For advanced features that require ECG-based heart rate readings, such as the Orthostatic Test available on Polar V800, you'll need the Polar H10.
Sports bra and heart rate: Polar OH1
If you find wearing a sports bra and a chest strap cumbersome, opt for Polar OH1.
Interval training for professional athletes: Polar H10
It's hard to beat Polar H10 when it comes to extremely accurate heart rate measurements in a fast-paced situation, such as a hard interval training session.
Polar H10
Polar H10 uses the 5kHz frequency to transmit your heart rate in the water.
Starting from 89,90 € / $89.90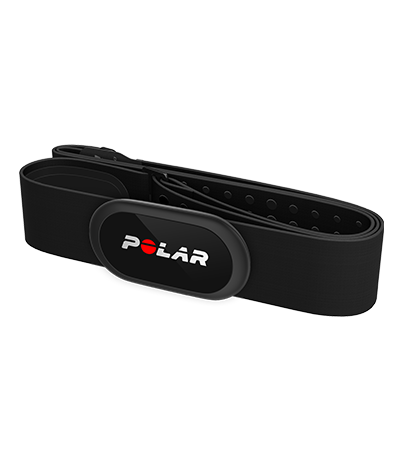 Swimming: Polar H10
If you're into swimming or triathlon, opt for the Polar H10. It uses the 5kHz frequency to transmit your heart rate in the water. Also, you can store one session into the internal memory so you don't necessarily need to wear a wrist unit at all.
You can use Polar OH1 in the water, but it's not optimized for tracking heart rate in the pool and you can't use it as a sensor, only to store a swim session into the internal memory. This is because it doesn't have the 5kHz transmission needed for sensor mode.
Heart rate sensor for fitness apps: either or both
Both Polar sensors use Bluetooth Smart to connect to your phone. Choose a sensor that fits your favorite sport – no clear winner here. Except you of course if you choose either one.
Learn more:
Introduction of the Polar OH1 optical heart rate sensor
In-depth article on optical heart rate tracking and how it works