As a busy mom, it may feel like a mission impossible to make time for exercise – but it is doable!
Here are a few tips on how to create a healthy life balance and arrange time for your workouts, even when you're feeling overwhelmed by what life is throwing at you.
1. STRIKE A HEALTHY BALANCE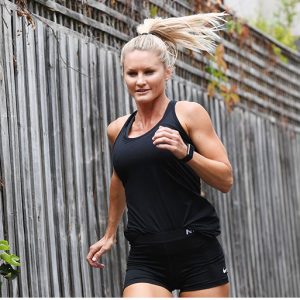 Finding a healthy balance as a mom can be an arduous task. There is always so much to fit in and generally never enough time between work, kids and everyday chores.
Whether you have a full-time job, work part time or are a stay-at-home mom, you will need to juggle to create a healthy balance for the whole family – including yourself.
Many women tend to put their needs last. While they ensure the rest of the family is on track, they neglect personal time to recharge, which is an unsustainable space to be in.
2. CREATE A FAMILY SCHEDULE
The organization and planning of a household needs to be a family discussion and schedule, set up as a roster system.
The trick is to make a conscious effort to get organized. All the people living in the house need to help and it must be a team effort – otherwise it won't work.
The family schedule should contain all details of people coming and going, as well as a dinner menu and chores to be completed daily/weekly. Search online for some easy to use weekly schedules, that you can download for free.
3. Arrange family meetings
Open communication with all family members is integral.
The best time to do this is at dinner on Sunday night. Use this time together as a family to discuss what each person needs to get done that week. Be sure to include sporting commitments, work meetings, catch ups with friends etc. and then discuss how everyone can contribute to achieving the plan.
This should also include writing in the time for mom to go to the gym, run, walk, yoga or even have a long bath.
The kids will appreciate being included in the process and being part of the solution.
4. GET MOTIVATED TO FIT IN EXERCISE: 5 EASY WAYS
Make your workouts fun. Meeting with friends for a weekly set gives us more motivation to attend and we are less likely to let our friend down. Try to mix it up a bit and try new things like a new fitness class or new venue to train.
Get sweaty. It makes you feel better and your skin will love you for it! Sweating helps your body detoxify and clears your pores.  Set a goal to get as sweaty as possible and reward yourself with a steam at the end of the session to really invigorate.
Focus and move to the beat. Listen to loud and bass style music during your workout.  To get into the zone, try working out with headphones when you're alone. It helps the brain to switch off to the outside sounds and puts you in a calm relaxed state.
Plan ahead and prepare a workout plan. Know what you are going to do before you begin the session. Write a plan or follow a well-guided fitness program. Ensure you complete it all.
Motivate yourself. Build up your confidence and motivation. Tell yourself:  "OK _______(insert name)______ you are not tired, you are not the victim, you can achieve any goal you want and today you will! So, get going, girl!"
5. SET SHARED FITNESS GOALS
Try to walk every morning as a family, 30 minutes before school or work, or in the evening go for a walk rather than sitting in front of the TV or technology.
This simple addition to your daily routine improves family communication, as well as having a host of health benefits.
Invite the children to offer healthy meal ideas when planning for dinner. And encourage a more hands on approach by letting them help in the kitchen one or two nights a week.
6. GIVE UP ON MOM GUILT
Remind yourself that you're not Wonder Woman and no one asked you to be.
The less guilt you put on yourself, the more relaxed you'll be with the concept of not completing everything every day.
Take each a day at a time and if you start to feel overwhelmed, take a moment to reassess what needs to be done. Ask yourself if you can assign tasks to another day or delegate something to others.
You don't have to do it all! Remember to "share the load". Assign jobs to the children; they are more capable than you think. They will mess it up multiple times but let them do it wrong until they get it right. They will actually enjoy the responsibility and it will instil work ethic and pride.
7. AVOID TIME WASTERS
Avoid the dreaded time wasters a.k.a. your phone and social media. Try to avoid scrolling mindlessly and reteach yourself to scroll just once and then put your phone away.
Set time limits by allocating 'social media times'. Limit yourself to 15 minutes in the morning and 15 minutes in the evening. Encourage the whole family to do the same and try to initiate technology free nights – you'll be amazed how much everyone will enjoy the interaction and conversation.
The mom role is hard and finding balance may feel hard at first, but it's key to being satisfied with yourself and a healthy, happy role model for your family.
If you liked this post, don't forget to share so that others can find it, too.
Or give it a thumbs up!
I like this article
Please note that the information provided in the Polar Blog articles cannot replace individual advice from health professionals. Please consult your physician before starting a new fitness program.