She's one of the greatest athletes in the world – and here's the advice that helped her get there.
Mirinda Carfrae may be a professional triathlete – one of the best in the world, in fact – but she's still human. So along the way to those podiums, the Ironman World Champion and Polar athlete has still made a few mistakes. (Professional athletes, they're just like us!) How does she avoid making the same mistake more than once? She heeds advice from her coaches, of course.
Here are the three pieces of advice Carfrae has received over the years that have made the biggest impact on her training and racing – and on her life.
1. Always take care of your body and treat it well, and it will return the favor.
"My coach, Siri Lindley, gave me this advice when I first started training with her," says Carfrae.
"As athletes, we tend to work ourselves so hard, always expecting more. It's fine to do that, but you should take the time to appreciate what your body allows you to do. Listen to it, look after it, and give yourself a break when you know you need one."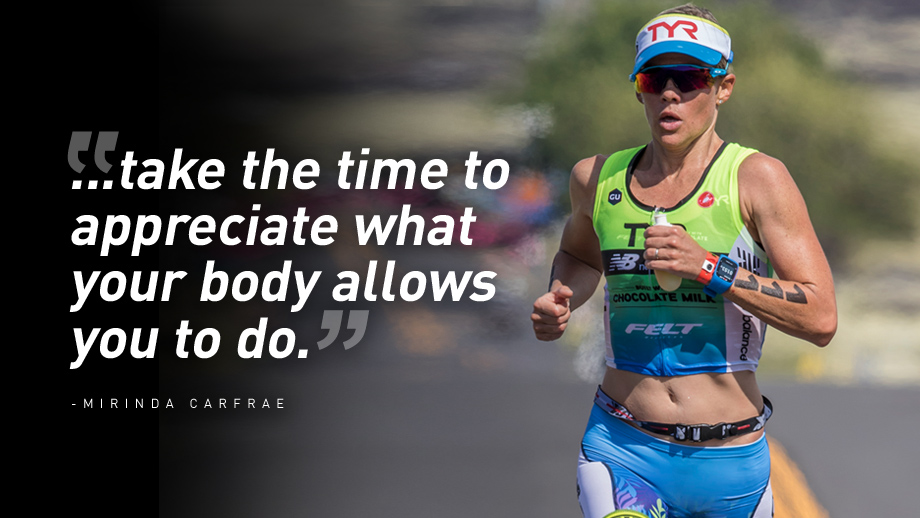 2. If it is to be, it's up to me.
"My basketball coach from when I was a teenager shared this saying with me," says Carfrae.
"Basically, if you want to achieve anything, it's up to you to get it done. This became my personal motto and has served me well."
3. Stay in the moment.
"I find that you are your best self when you're focused completely on what you're doing in the moment," says Carfrae.
"This is another little piece of wisdom from Coach Siri. Always stay in the moment. It's not easy, and it takes constant work, but I know that when I'm training or in a race and am completely involved in the moment, I know I'm getting the very best out of myself."
If you liked this post, don't forget to share so that others can find it, too.
Or give it a thumbs up!
I like this article
Please note that the information provided in the Polar Blog articles cannot replace individual advice from health professionals. Please consult your physician before starting a new fitness program.