polar sport zones for cycling
Polar sport zones spell a new level of effectiveness in heart rate-based training. Training is divided into five sport zones based on percentages of your maximum heart rate. With sport zones, you can easily select and monitor training intensities and follow Polar's sport zones-based training programs.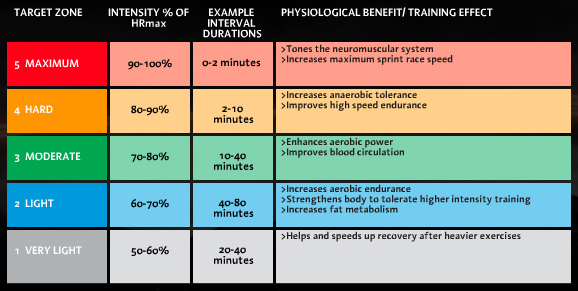 Training in sport zone 1 is very low-intensity. Instead of resting during recovery, speed the process up by training in this zone.
Endurance training at an easy pace in sport zone 2 is an essential part of every cyclist's training program. Cycling long distances in sport zone 2 increases metabolic economy. It helps save glycogen for higher intensities and uses fat as the main energy source.
Aerobic power is enhanced in sport zone 3 with mainly aerobic cycling. Training can consist of long intervals, for example uphill intervals or high-cadence intervals.
Cycling in sport zones 4 and 5 means cycling anaerobically in intervals of up to 12 minutes. The shorter the interval, the higher the intensity. Sufficient recovery between intervals is very important. Polar sport zones makes training easier (planning, controlling and documenting), especially for beginners and intermediate cyclists. Polar sport zones can be personalized by using a measured maximum heart rate.
When cycling in a certain sport zone, the mid-zone is a good target but you don't need to keep your heart rate at that exact point all the time. Training intensity, recovery level, environmental and other such factors will all contribute to heart rate responses. It is, therefore, important to pay attention to subjective feelings of tiredness and to adjust the training program accordingly.