POLAR TEAM² SOFTWARE
This software is designed for team sports and group training management, and it is the key to the Team² system.
Step 1: Manage Training
Team² software is specifically designed for team and group training management. This application includes comprehensive tools for planning your season. It provides you with the best possible features for monitoring real time heart rate information with analysis and reporting tools to get the peak performance out of your players.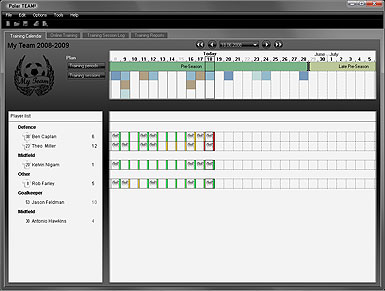 Step 2: Plan
Create a successful season with a comprehensive planning and follow-up tool. The features included enable you to maximize the performance of each individual by providing you with a systematic training program to take your team through.
With Polar Team² Training Calendar you are able to create your season, with training periods and even create detailed training sessions.
Training Calendar includes a follow-up view for past weeks of training with an indicator for the recovery status of each individual player.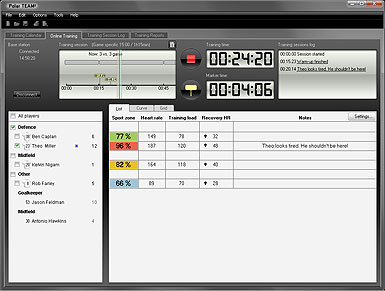 Step 3: Online Training
It's all about optimizing your team's training to reach the objectives. With Polar TEAM2 software you are able to monitor each player's efforts in real time. This application provides you with a selection of different views for online monitoring. Planned training sessions guide you through the routines you've previously scheduled.
List View is a quick, comprehensive way of following the data collected from the players in one view.
Curve View enables you to see heart rates curves of selected players. It includes Comparison curve to compare current efforts with past training in real time.
With Grid View you can monitor key online data of selected players at a glance, or bring up the information in full screen mode. You're free to choose the primary information you want to observe.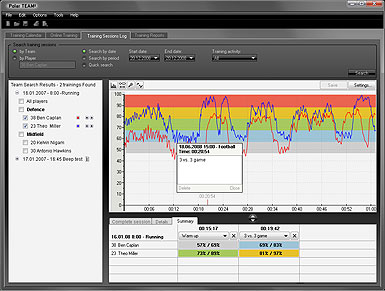 Step 4: Analyze
This tool allows you to refine, modify and save your collected data for further analysis and reporting.
Complete session view allows you to instantly see what the overall effort of each individual was.
Details view gives you comprehensive information from one exact point of time in the data.
Summary view enables you to mark, name, and save the phases you need in your reports.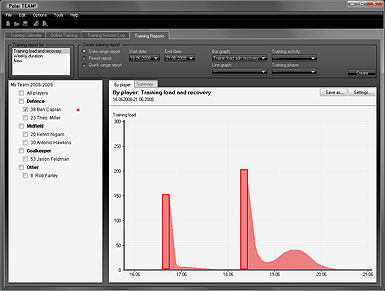 Step 5: Share Reports
The source of all necessary information is in the Training Reports. Create reports, share information and give feedback--the search tool defines and saves specified search criteria so you can easily find saved data. All data can be viewed from an individual or team perspective.
The software includes features for easy creation, sharing, and transferring of data.