Polar Cardio GX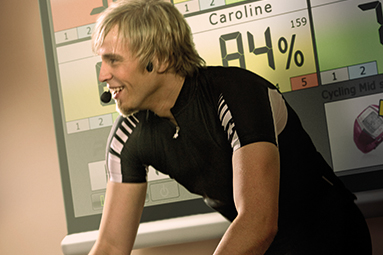 Polar Cardio GX provides guidance to perform at the right intensity as both instructor and participant can view heart rate and monitor progress throughout a group fitness class.
Upon check-in, members receive a soft strap along with a specialized CardioGX sensor to wear during class. As soon as class begins, live heart rate data, calories, and motivating rewards appear on the screen. With such instant visual feedback, class participants can find the right intensity.
After class, a personalized comprehensive training report is automatically generated and can be emailed to each participant. The individualized training report breaks down calories burned, time spent within each heart rate zone, as well as the training benefit of the session. The training report, along with the instant visual feedback given during class, guide participants to find the right intensity in a group setting while achieving individual training objectives.
Helps members achieve individual training objectives
Creates a better understanding of the advantages of heart rate-based training
Motivates with instant visual feedback as well as the training report
Explains the training benefit of each class
Allows data storage in almost any Polar training computer